Engineer Service » Catalog » Lighting equipment » DeSisti » Quartz Halogen Fresnels



Quartz Halogen Fresnels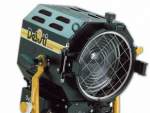 The De Sisti Leonardo range of Fresnels were developed to meet all of the requirements of lighting professionals including versatility, rugged, durable construction, optical efficiency and control. The De Sisti Leonardo line begins with the versatile Magiñ Fresnel which houses a 300, 500 or 650W postal lamp and can be purchased individually with manual or pole operated yokes, or in a portable lighting kit. The Leonardo Series of Fresnels are offered in both "Studio" and "Piccolo-Location" sizes and are available from 1000W up to the 24000W.
- Superior optics offer a wide, clean even field with remarkable barndoor cut off in flood and half spot position.
- Rugged, lightweight housing, assembled completely with machine screws for easy maintenance and repair.
- Stainless steel wire guard and scrim set promotes longevity.
- Special flexible alloy barndoors deter permanent bending.
- Highly functional cable drive focus system utilizing a Teflon bushing and stainless steel guide rails for smoother focus. Focus tension adjustment for years of maintenance and operation.

New

Camera-top light

Zylight Newz