Engineer Service » Catalog » Lighting equipment » DeSisti » Video and Location Fluorescents



Video and Location Fluorescents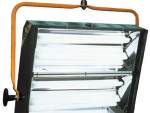 Video and Location Fluorescent / De Lux
The De Lux compact fluorescent units are the perfect fill light and set light to compliment any studio or video package. The original DeLux design has been modified to offer a fluorescent fixture without the need of a bulky, exterior "intensifier". The new reflector system offers the brightest, flattest field in the industry at very competitive prices. 2 lamp, 4 lamp and 6 lamp 55 watt configurations are available to achieve the necessary footcandle levels in the studio. DMX, phase and local analog control options are available to dim the units to 10%.

New

Camera-top light

Zylight Newz