Engineer Service » Catalog » Lighting equipment » DeSisti » Ceramic Discharge Metal Halide Fixtures



Ceramic Discharge Metal Halide Fixtures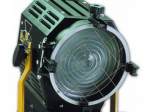 Ceramic Discharge Metal Halide Fixtures / C.D.Lights
The CD Lights utilize the high efficiency Ceramic Discharge Metal Halide (CDM) Lamps. The CDM lamp first used for architectural applications do the low wattage (70 and 150 watts), high output (90 lumens per watt), high color rendering index (CRI>85) and long lamp life (10,000 hours) characteristics are becoming popular for television, video and photography when housed in the DeSisti CD Lights. The superior optics and fixture functionality has allowed the CDM lamp to be used as an alternate light source when low power, heat restrictions and lengthy fixture operation are eminent. The CD Lights have been used in 24-hour news channels, television shopping applications, teleconferencing, blue screen lighting and scanner back cameras for digital photography.
Available in 70 watt or 150 watt Fresnel and 150 watt broadlight models
- Model 15B offers wide even beam spread utilizing the Renoir/Goya reflector design
- DMX control on/off available.
- Integrated, internal high frequency electronic ballast (flicker free).

New

Camera-top light

Zylight Newz