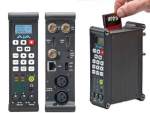 Ki Pro Mini easy mounted to any video camera, equipped with SDI or HDMI digital output. Recorder uses Apple ProRes 422 or Avid DNxHD formats for capturing full quality HD/SD footage to Compact Flash (CF) media. Compared to 8-bit recording devices, 10-bit 4:2:2 recording (when supported by the codec) provides better quantization, giving a superior representation of the original scene and allowing for more flexibility in post production when adjusting color and balance.
While many cameras record directly to digital files, most native camera formats aren't designed for efficient non-linear editorial work. Ki Pro Mini solves this problem by recording direct to the formats you edit in, using a variety of Apple ProRes 422 or Avid DNxHD codecs. Different cameras each record to their own native formats, which can lead to inefficiencies in the editing process. Recording each camera to a Ki Pro Mini unifies production to a single file format, streamlining the edit process.
Ki Pro Mini vastly extends on-set capabilities for smaller productions and fast-moving shoots. Recorded shots can be played immediately without the need for separate video assist equipment. If you're using a mobile editing system, footage from Ki Pro Mini can be edited while you're still on the set, letting you make sure you have the right shots and allowing the talent to see their performances in context to give them better insight into the scene.
Ki Pro Mini uniquely equipped for advanced remote control and configuration. With a standard Ethernet LAN connection to a host computer and any web browser, all Ki Pro Mini parameter settings, clip selection and transport controls can be controlled; no additional or special software installation is required on the host computer. Multiple Ki Pro Mini units can even be controlled from a single web interface making Ki Pro Mini an ideal solution for multi-camera recordings.
SPECS:
Video Formats

(HD) 1080i 25, 29.97, 30
(HD) 1080PsF 23.98, 24, 25*, 29.97*
(HD) 1080p 23.98, 24, 25, 29.97
(HD) 720p 23.98*, 25*, 29.97*, 50, 59.94, 60
(SD) 625i 25
(SD) 525i 29.97

*Note: Require a valid camera source and the use of the Record Type>VFR selection

Codec Support

Apple ProRes 422
Apple ProRes 422 (HQ)
Apple ProRes 422 (LT)
Apple ProRes 422 (Proxy)
Avid DNxHD 220x
Avid DNxHD 145
Avid DNxHD 36

Note: Avid DNxHD is only supported for 1080p/PsF sources

Removable Storage

Compact Flash (CF) cards - 2 slots

Video Input Digital

HD/SD SDI, SMPTE-259/292/296, 10-bit
Single Link 4:2:2 (1 x BNC)
HDMI v1.3

Video Output Digital

HD/SD SDI, SMPTE-259/292/296, 10-bit
Single Link 4:2:2 (1 x BNC)
HDMI v1.3

Audio Input Digital

2 or 8 Channel user selectable

8-Channel, 24-bit SMPTE-259 SDI embedded audio, 48 kHz sample rate, synchronous
2-Channel, 24-bit HDMI embedded audio, 48 kHz sample rate, synchronous

Audio Input Analog

2-Channel, 24-bit A/D analog audio, 48 kHz sample rate, balanced (2 x XLR)
Input level: Line, Mic, Mic+phantom 48Vdc
+24dBu full scale digital
+/- 0.2dB 20 Hz to 20 kHz frequency response

Audio Output Digital

8-Channel, 24-bit SDI embedded audio, 48 kHz sample rate, synchronous
8-Channel, 24-bit HDMI embedded audio, 48 kHz sample rate, synchronous

Audio Output Analog

Stereo unbalanced headphone jack (1 x mini jack)

Timecode

SDI RP188/SMPTE 12M via SDI BNC
HDMI (when used with compatible cameras)
LTC input (1 x BNC)

Reference Input

Analog Color Black (1V) or Composite Sync (2 or 4V)

Network Interface

10/100/1000 Ethernet (RJ-45)
Embedded web server for remote control

User Interface

3 line character display, with dedicated buttons

Size (w x d x h)

110.6mm x 46.2mm x 149.98mm

Weight

0.6 kg

Power

100-240 VAC 50/60 Hz, 12-18Vdc 4-pin XLR, 1.5A max, 15W

Environment

Safe Operating Temperature: 0 to 40 degrees C
Safe Storage Temperature (Power OFF): -40 to 60 degrees C
Operating Relative Humidity: 10-90% noncondensing
To discuss at a forum