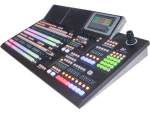 HD/4K-UHD multiple effects production switcher designed for use in any live environment, including mobile shoots, events, and in-house corporate productions. Event memory and macro functions make it easy to set up quickly for live performances. Exclusive MELite technology extends the switcher's 2 M/Es to offer 6 M/E performance. Additional features will add FLEXaKEY , which allows a traditional AUX bus to transform into a functional Mix Effects with cuts, mix, wipes, keys, and DVE including full preview.
Special FLEXaKEY keyers are designed for flexible reassignment. The four FLEXaKEYs provided operate separately from standard keyers of the full M/E buses. Easy keying of four different FLEXaKEYs in any AUX bus is another highlight enabling impressive performances beyond the reach of conventional switchers.
HVS-490 equipped 16 video inputs, expandable to 40, along with 9 video outputs (including 1 HDMI port) that are expandable to 22 (including 2 HDMI ports). For 4K, 8 to 10 inputs and 6 to 7 (including 2 HDMI ports) outputs (expandable to 7) are provided.
HVS-490 provides three displays of multi viewer output, each supporting up to 16-split display. More than 10 screen layouts each are available. This provides an optimal monitoring environment for both the main operator and other users. 4K output is supported via HDMI 2.0 Level B. Via HDMI outputs, monitor four images on one screen. Using 3 multi viewer outputs and PGM output, up to 49 windows are displayed.
HVS-490 supports 4 AES (8 channels) of balanced or unbalanced audio input and output. Able to demultiplex AES audio from video/clip input and multiplex AES audio into video output. Use an internal sampling rate converter to sync audio input to the system.
The HVS-490 has an incredibly powerful feature set making it ideal for live staging and event applications where systems must be set up quickly and temporarily. Event memory and macro functions make it easier to prepare for performances. MELite eliminates the need to have several switchers ready for multi-monitor staging, greatly reducing the equipment required. It's essential to keep production simple and easy, preventing mistakes and helping operators focus on staging.
The HVS-490 with its robust feature set is perfect for small mobile video production or Up-Link in which space is limited. The HVS-490 switcher offers a rich feature set perfect for live or recorded production. With integrated frame synchronizers and multi viewer, the HVS-490 can reduce the amount of equipment required in the truck. Using multiple control FOR-A control panels, the system can also provide an environment for several operators each in charge of separate tasks for example one for the main event and a second for a web cut of the same event.
SPECS:
M/E buses

2M/E

Control panels

HVS-492WOU: 2M/E 22 buttons
HVS-492OU: 2M/E 18 buttons

Video formats

1.5G-SDI: 1080/50i, 1080/25PsF, 1080/25p, 1080/24PsF, 1080/24p, 720/50p
3G-SDI: 1080/50p

Video formats (optional)
HVS-49EXP4K

4K: 2SI or SQD

Video inputs

HD-SDI: 1.5Gbps, 16 x BNC, 75Ω (frame synchronizer x 16, resizing engine x 4)
3G-SDI: 3Gbps

Video inputs (optional)

HVS-100DI-A:
HD-SDI: 1.5Gbps, 4 x BNC, 75Ω
3G-SDI: 3Gbps, 4 x BNC, 75Ω

HVS-100AI:
HD analog component, Analog composite

HVS-100PCI:
HDMI: SXGA to WUXGA/HDTV (1080i, 1080/50p, 25p, 24p), SXGA to WXGA/HDTV (720p)
RGB: SXGA to WUXGA/HDTV (1080i, 1080/50p), SXGA to WXGA/HDTV (720p)

Number of video inputs

Standard: 16 (SDI only) / Max 40 (varies depending on optional configuration)

Video outputs

HD-SDI: 1.5Gbps, 8 x BNC, 75Ω (2 x PGM, 6 x AUX)
3G-SDI: 3Gbps
1 x HDMI (AUX) HDCP Compactible, AUDIO support

Video outputs (optional)

HVS-100DO:
HD-SDI: 1.5Gbps, 2 x BNC, 75Ω
3G-SDI: 3Gbps, 2 x BNC, 75Ω

HVS-100AO:
HD analog component, Analog composite

HVS-100PCO:
HDMI: SXGA to WUXGA/HDTV (1080i, 1080/50p, 25p, 24p), SXGA to WXGA/HDTV (720p)
RGB: SXGA to WUXGA/HDTV (1080i, 1080/50p), SXGA to WXGA/HDTV (720p)

Number of video outputs

Standard: 9 (8x SDI+ 1x HDMI) / Max 22 (varies depending on optional configuration)

AUX

Standard: 6, Max 12

Processing

4:2:2, digital component

Quantization

3G/HD/SD-SDI: 10-bit

Multiviewer

Output channels: 3
Split display: 2/4/5/7/9/10/11/14/15/16 (Max 49 via HDMI 2.0 Level B)

Still/Clip store

4 channels (stored up to 900 frames (30 seconds) at 1080i)

2.5 DVE

Standard: 8, Max 16 (1080/50p)

2.5 DVE (optional)

HVS-49DVE: 8 (1080/50p)

Transitions

Available controller: Fader controller, AUTO button, CUT button
Type: MIX or WIPE (DVI included)

Audio inputs/outputs (optional)

HVS-49AES:
Embedded: 8x BNC (16 channels), synchronous/asynchronous, 48 kHz, 16 to 24 bit (3G Level B: Link A embedded only)
Input: 4 x BNC (4 x stereo, 8 channels), unbalanced, 75Ω, 32/44.1/48kHz, 24 bit
Output: 4 x BNC (4 x stereo, 8 channels), unbalanced, 75Ω, 48kHz, 24 bit
I/O: 1x D-sub 25 pin(4 x stereo, 8 channels), 110Ω, balanced, input: 32/44.1/48kHz, output: 48kHz, 24 bit

Genlock input

1x BNC BB: 0.45 Vp-p (PAL) or Tri-level sync: 0.3 Vp-p, 75Ω, loop-through (be terminated with 75Ω terminator, if unused)

Genlock output

1x BNC BB: 0.45 Vp-p (PAL) or Tri-level sync: 0.6 Vp-p, 75Ω

External memory

SD-CARD slot

Internal memory (optional)

HVS-49SSD240G: 240 GB SSD

Interface

RS-422: 2 x D-sub 9 pin (female)
GPI IN: 1 x D-sub 25 pin (female) for 19 inputs
GPI/TALLY OUT: 1 x D-sub 25 pin (female) for 22 outputs
Ethernet: 2 x RJ-45, HVS-LAN (for OU connection), PC-LAN (for computer and peripheral device connection)

Temperature/Humidity

0˚C to 40˚C / 10%-90% (no condensation)

Power

HVS-490/HVS-492OU/HVS-492WOU: AC 240 V, 50 Hz

Consumption

HVS-490: 510 W
HVS-492OU: 43 W
HVS-492WOU: 64 W

Size / weight

HVS-490: 429 x 132 x 490 mm / approx. 16.5 kg
HVS-492OU: 646 x 436 x 132 mm / approx. 10.4 kg
HVS-492WOU: 844 x 410 x 132 mm / approx. 11.8 kg
To discuss at a forum