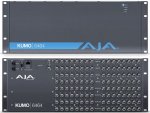 Compact 64x64 3G-SDI Router offers 64 inputs and 64 outputs of 3G-SDI video and audio, while maintaining a slim and compact 4RU profile. The router has elegant and powerful web-based network control, and supports any SDI-based signal up to 3G-SDI, including HD and even 4K/Ultra HD signals. Built with high-quality standards, the KUMO 6464 Router is ideal for any installation where a balance of size and routing capacity are critical.
KUMO 6464 router provides powerful signal control and supports full broadcast specifications over 3G-SDI, with quality that exceeds SMPTE specifications. The super compact 4RU size is just a 1.5 inches deep, making it a perfect fit for any broadcast, production, or postproduction environment, from mobile sports trucks and edit suites, through to corporate video installations or live theatrical A/V rigs.
For simple direct and network control, KUMO CP2 is a 2RU Control Panel supporting all 64 inputs and 64 ouputs on KUMO 6464.
KUMO's routing matrix maps any input to any number of outputs without the need for additional patch panels or distribution amplifiers. Use KUMO as an affordable distribution amplifier by routing a single input to all outputs. Used in this way, a KUMO 6464 can take the place of multiple distribution amplifiers.
With a simple setting change, KUMO routers can be configured for ganged dual and quad port routing, allowing users to group together multiple inputs and outputs for Dual Link, 4K and UltraHD workflows. This allows seamless routing of uncompressed or Raw 4K and UltraHD signals throughout a production or post facility. Then switch the router back to HD/SD operation as needed, giving you the flexibility to route virtually any format in your facility.
SPECS:
Video Formats

270Mbps, 1.5Gbps, 3Gbps SDI, SMPTE-259/292/424
270Mbps DVB-ASI
Format agnostic, 10Mbps-3Gbps

Video Input Digital

64 x BNC, 3G-SDI Inputs

Video Output Digital

64 x BNC, 3G-SDI Outputs, Noninverting

Cable Equalization

3Gbps, up to 140m using Belden 1694A
1.5Gbps, up to 200m using Belden 1694A
270Mbps, up to 400m using Belden 1694A
Automatic operation

Reclocking

270Mbps, 1.483Gbps, 1,485Gbps, 2.966Gbps, 2.970Gbps
Automatic rate selection
Automatic reclocker bypass

Switching Modes

Single, Dual, and Quad link modes
Switches in vertical blanking per SMPTE RP-168

Control Panel Compatibility

AJA KUMO CP (Dual or Quad mode) – 1RU X-Y Ethernet control panel
AJA KUMO CP2 (Single, Dual or Quad mode) – 2RU X-Y Ethernet control panel

Reference Input

External, 2 x BNC
Looping, nonterminating
Blackburst or tri-level sync

Network Interface

1 x RJ-45, 10/100/1000 Ethernet
Supports AJA KUMO Ethernet control panels, direct connect or networked
Embedded web server for remote control

Serial Interface

1 x DB-9 Female, RS-422

Size

4RU - 482.6mm x 39.4mm x 177.8mm

Weight

4.2 kg

Power

9-17VDC regulated, 32W typ, 36W max, power supply required, included with purchase
AC Adapter: 100-240VAC, 50/60 Hz, universal input

Environment

• Safe Operating Temperature: 0 to 40 degrees C
• Safe Storage Temperature (Power OFF): -40 to 60 degrees C
• Operating Relative Humidity: 10-90% noncondensing
To discuss at a forum