Engineer Service » Catalog » Lighting equipment » Litepanels » Litepanels 1x1



Litepanels 1x1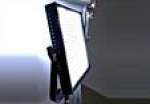 Models: 5600°K Flood • 5600°K Spot • 3200°K Flood
The 1x1 is the most versatile production light ever built. Combining Litepanels hallmark LED technology in a sophisticated, slimline housing, this revolutionary modular lighting system provides 1x1 of pure, luminous, soft, directional output.
The 1x1 shares many of the technical innovations designed by to give you an unmatched level of lighting control. An ergonomic control knob on the back enables instant dimming from 100% to 0 with minimal color shift. Absolutely silent & flicker-free and heat-free, the system can be positioned comfortably close to a subjects face, filling it with an unmatched quality of soft, wrap-around light. For even more control, a set of 6 interchangeable slide-in conversion and diffusion filters is available in various configurations for both daylight and tungsten versions.
Employing Litepanels ultra-efficient LEDs, the system draws just 40 Watts @ 24V, yet outputs the equivalent of 500 Watts. The 1x1 is powered via an external 100-240VAC international adapter, which provides 24VDC to the unit. Equipped with an XLR power connector cable, the 1x1 can also run off a variety of 18-28VDC sources, including a standard camera battery, car battery, or an optional Backpack PowerCell. Litepanels 1x1 is available as a single daylight or tungsten fixture or in a 4-light kit with light stands and a convenient carrying case. Accessories, including Litepanels convenient Backpack PowerCell, modules and optional correction/diffusion gels, may be purchased separately.
By using Litepanels new optional Remote Dimming Module, operators can override the 1x1 on-board dimmer at distances up to 25-feet, an invaluable capability when the situation calls for adjustments in intensity made away from the light fixture itself.
Designed for quick and easy set up and operation, Litepanels 1x1 measures just 12" (30.48cm) square, has a thickness of only 1.75" (43mm), and weighs a mere 3 lbs. (1.36kg). This ultra-flat profile, lightweight system adapts readily to a variety of lighting situations. The unit mounts easily on a light stand or tripod via a yoke with standard TVMP receptacle. Coupled with dedicated mounting hardware, the modular housing enables 2x2 and 4x4 multi-panel configurations – making the units making the units able to fit a wide range of jobs.
New

Camera-top light

Zylight Newz