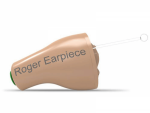 The Phonak Roger Earpiece IEM Receiver combines Phonak's advanced digital audio technology with an ultra small, discreet form factor – making the receiver virtually invisible in front of cameras or audiences, without any belt packs or cables. And with a comfortable fit thanks to its tiny 1.3g weight, and up to 12 hours of battery life, Roger Earpiece is so comfortable and convenient it can be worn all day.
Using Phonak's proprietary 2.4 GHz wireless spectrum, Roger Earpiece is easy to set up, and even easier to use, with plug-and-play configuration and automatic reconnection. Along with the earpiece, Phonak offers Roger Base Station and Roger Touchscreen Mic, to deliver a full platform for studio professionals.
Using Phonak's proprietary technology in the 2.4GHz band with adaptive frequency hopping technology to avoid interference, Roger Earpiece is easy to set up, and even easier to use, with one-press connection and automatic reconnection when in range.
As part of the Roger Earpiece system, Phonak offers two transmitter options, the stationary Roger Base Station and the mobile Roger Touchscreen Mic, which can also work together in one network. This system provides studio professionals the flexibility to configure audio transmission from a single fixed source or multiple mobile sources as required.
FEATURES
Micro-size earpiece: weight 1.3g (0.05oz) , length 18mm (0.71")

License free 2.4GHz transmission

Adaptive automatic frequency hopping

Audio frequency range: 100Hz – 7200Hz

SPL: up to 100dB

Range: up to 40m

Unlimited number of earpieces can be connected in one network

Individual volume control function

Fixed and mobile transmitter options

Out-of-range beep
To discuss at a forum