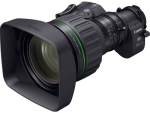 Portable lens, combining outstanding optical performance and support for 4K UHD (and HDTV) broadcast production. Featuring a focal length range of 7.8-156mm (15.6-31213mm with the built-in 2x extender) and a 20x zoom ratio, the CJ20ex7.8B 4K UHD lens is able to maintain high 4K resolution and contrast from the center of the screen all the way to the edges. The resolution around the edges has been improved by achieving advances in the inner focus system.
The portable CJ20ex7.8B 4K UHD lens was developed with high index optical glass materials, each having unique dispersion characteristics, helping to minimize chromatic aberrations and geometric distortion. Lens element surface accuracy has been improved significantly over HDTV lenses contributing to the enhanced Modulation Transfer Function (MTF) performance required of 4K imagery. New multi-layer optical coatings combined with new deposition processes produce an outstandingly pristine optical imaging system.
Weighing only 4.81 lbs. and measuring 6.69" (W) x 4.50" (H) x 9.06" (L), the portable CJ20ex7.8B 4K UHD lens is similar in size to our 2/3" HD lenses, while delivering 4K performance. The same shooting style as that of existing 2/3" HD lenses can be carried over. The center of gravity is close to the mount, lessening strain on the hands and elbows of the camera operator. The ergonomic form factor creates a user-friendly design, including an ergonomic grip design for a comfortable feel, helps to reduce fatigue and make it easy to move the camera about. The new lens is sure to satisfy professionals with its high-level combination of excellent specifications, enhanced optical performance, and outstanding usability.
This feature allows for compatibility with a broadcast-use HD demand. It enables the use of the zoom and focus electrical drive system accessories (such as the ZSC-300D and FPD-400D) which are currently used by HD equipment.
The portable CJ20ex7.8B 4K UHD lens incorporates a digital drive unit, and the high-performance 16-bit encoder supports communication with compatible 2/3" HDTV cameras equipped with aberration correction functionality, without initializing the lens. Three 20-pin connectors enable high-definition lens metadata output for virtual systems even during full-servo operation. In addition, the low power consumption and a simple display mode (Basic Mode) enhance operability.
SPECS:
Product Category

ENG Lens

Product Series

CJ20ex7.8B IASE S

Object Image Format

2/3 inch

Aspect Ratio

16:9

Zoom Ratio

20X

Focal Length Range

7,8-156 mm
15,6-312 mm (with 2x Extender)

Angular Field of View

63.2° × 38.2° at 7,8mm
3.5° × 2.0° at 156mm

34.2° × 19.6° at 15.6mm (with 2x Extender)
1.8° × 1.0° at 312mm (with 2x Extender)

Maximum Relative Aperture (F-Number)

1:1.8 at 7.8 ~ 108mm
1:2.6 at 156mm

1:3.6 at 15.6 ~ 216mm (with 2x Extender)
1:5.2 at 312mm (with 2x Extender)

MOD From Front of Lens

0.8 Meter

Scene Object Dimensions at MOD

91.7 × 51.6 cm at 7.8 mm
4.8 × 2.7 cm at 156 mm

45.9 × 25.9 cm at 15.6 mm (with 2x Extender)
2.4 × 1.4 cm at 312 mm (with 2x Extender)

Width

169.9mm

Height

114.4mm

Dimensions

230mm

Weight

2.18kg
To discuss at a forum