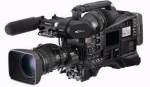 AJ-PX5000G is the first camera recorder to offer microP2 card slots which dramatically reduce media costs. Recording codecs start with AVC-Intra and include, again for the first time in a camera recorder, the AVC-LongG50/25 codecs with low-bit-rate operation and Full-HD 1920 x 1080, 4:2: 2, 10 bit image quality. Even longer record time is possible by using AVC-LongG12 (8 bit 4:2: 0). Dual codec recording*2 is also possible with low-bit-rate and high-quality AVC-LongG6*2 codec (Full-HD 1920 x 1080), for breaking news. The AJ-PX5000G also supports the AVC-Intra200 codec*2*3 for visually lossless images that approach the level of uncompressed master quality.
Features:

- HD/SD Multi Format/Multi Codec -- In addition to 1080/60i, the AJ-PX5000G supports 24p, 30p,60p, and 720p multi HD format and SD recording. Also, 50i, 50p, and 25p are supported by 59.94 Hz/50 Hz switching.
- Achieves high F12 (59.94 Hz)/F13 (50 Hz) sensitivity, excellent images with an S/N ratio of 62 dB; shoulder-type design accommodates a variety of interchangeable B4 mount 2/3" lenses;
- Equipped with Chromatic Aberration Compensation (CAC) to maximize lens performance;
- Dynamic Range Stretch (DRS) optimizes scene image contrast at the pixel level, reducing overexposure and crushed shadow content and dramatically improves human skin rendition.
- Highly accurate flash band detection and compensation algorithm that minimizes partial image exposure due to strobe lighting.
- 7-mode (HD/SD/FILMLIKE 1/FILMLIKE 2/FILMLIKE 3/FILM-REC/VIDEO-REC) gamma selection and extensive digital image settings.
- A 16:9, 3.5-inch, 920,000-dot resolution LCD color viewfinder, which doubles as a LCD monitor when open;
- Audio capabilities include two XLR audio inputs, and records up to four channels of 48kHz, 24-bit audio in AVC-Intra formats (16-bit in AVC-LongG, DVCPRO HD, DVCPRO and DV);
- Scan Reverse for use with a cinema lens adaptor;
- Presettable Shutter Speed from 1/12 to 1/2000 sec plus variable Synchro Scan;
- 4-position (CLEAR, 1/4 ND, 1/16 ND, 1/64 ND) optical neutral density filter wheel;
- 50 Hz and 59.94 Hz switchable for worldwide use.
- A simplified waveform and vectorscope;
- A 10-pin remote terminal enabling remote camera operation; and an optional camera studio system.
- Two optical filters, ND and CC, with four positions each. The CC filters are 3200K, 4300K, 5600K and 6300K;.NDs are Clear, 2, 4, and 6 stops.
- Uplink device support. The status, settings, and bandwidth condition for the LiveU LU40 Series can be displayed on the camera viewfinder, and uplink start/stop can be operated. This allows the camera operator to handle live relays comfortably and securely.

Data Sheet, PDF
To discuss at a forum