Engineer Service » Catalog » Lighting equipment » Litepanels » Litepanels MiniPlus



Litepanels MiniPlus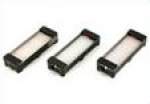 Models: 5600°K Flood • 5600°K Spot • 3200°K Flood
Building on the success of the popular Litepanels Mini, the compact, portable, dimmable LED softlight, the new MiniPlus offers an upgraded design and new features. Available in daylight (flood and spot) and tungsten (flood) models, the powerful new system provides soft, directional output. This broad lighting source is ideal to mount on a camera, wall, or any place that calls for a highly portable softlight.
Litepanels MiniPlus heads feature an output control knob for instant dimming from 100% to 0, with minimal color shift. Output is fully flicker-free and heat-free, and remains consistent, even as the battery voltage goes down. For additional control, units are available with pre-cut interchangeable conversion and diffusion gels that handily slip into an integral frame. Gels are supplied in 8 or 16-piece sets customized for every MiniPlus Camera Lite Kit, One-Lite, or Dual-Lite package. These long-life filters can also be purchased separately, in sets, or individually.
Litepanels MiniPlus is three times more efficient than a conventional tungsten camera light. And, its easy to handle because its virtually heat-free. The system offers an efficient snap-on NiMH 2+ hour battery pack. A convenient 5-step bar graph fuel gauge and improved charge indicator displays charging status and remaining battery power when the light is in use.
The 100-240VAC international adapter/charger can either run the MiniPlus or charge the battery pack.
The optional DV Battery Adapter Plate simply snaps onto the back of the MiniPlus head, for up to 8 hours of power using 2 standard Panasonic, Canon, or Sony DV camera batteries. The Litepanels MiniPlus head features a smart rectangular silhouette, conveniently suited to widescreen format. Measuring just 6.83" W x 2.30" H x 1.18" D (173mm x 60mm x 30mm), the head weighs only 9.6 ounces (.36kg). With its black anodized finish and sleek design, the housing blends in with modern desktops. In fact, it is so unobtrusive that it is often used in-frame. But looks arent everything. Built for long life, the system is protected by a tough cast aluminum housing.
The base plate allows the MiniPlus to be fully freestanding, with easy pan and tilt adjustment. The Deluxe Detachable Ball Mount with integrated camera shoe allows for multiple configurations–on the base plate, camera shoe, or with other types of mounting hardware. An optional articulating extension arm offers ultimate positioning control.
By using Litepanels new optional Remote Dimming Module, operators can override the MiniPlus on-board dimmer at distances up to 25 feet, an invaluable capability when the situation calls for adjustments in intensity made away from the light fixture itself.
Litepanels MiniPlus is available in several configurations to suit individual requirements. Options range from the Camera Lite Kit, to single or dual lite packages that feature virtually everything you will need in a handy case: heads, batteries, power adapters, cables, gel kits, and power adapter plugs for worldwide compatibility. The comes with either a Sony, Panasonic or Canon DV adapter plate.


New

Camera-top light

Zylight Newz