Engineer Service » Catalog » Lighting equipment » DeSisti » Quartz Halogen Portable Lights



Quartz Halogen Portable Lights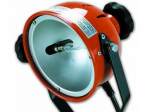 The quartz halogen portable lighting units are available in Cosmobeams, Mini Broad and Pinza Model. The Cosmobeam 650W, 1000W and 2000W offer the traditional rugged open face design with a durable construction. The Cosmobeam range is focusable and offered with integrated wireguard, barn door and accessory holder for beam control and safety. The fixtures can be outfitted with all of the leading light bank manufacturers products. The units are sold separately or in portable lighting kits. The Mini Broad 1000W is equipped with an integral barndoor and is a powerful flood light. The Pinza work light comes equipped with a flexible arm and gaffer grip and utilizes a medium screw lamp up to 500 watts.
New

Camera-top light

Zylight Newz